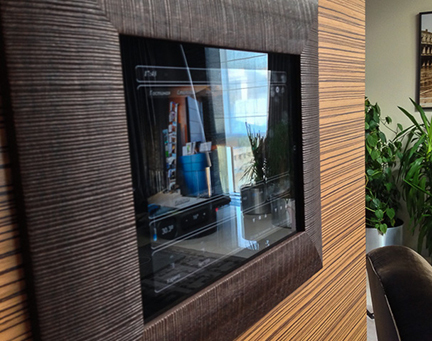 Type of project:
individual
Company: Innovations and Intellect Ltd.
Location: Moscow, Russia
Equipment: KNX
Penthouse (Innovations and Intellect Ltd.)
Tasks set by the client in the project
The customer wanted to control all equipment from an intuitive interface from iPhone and iPad.
Project description:
Lighting control.
Blind control.
Climate control.
Video surveylance.
Multiroom system.
Control of all audio-video equipment.
Leakage control.
Difficulties you faced while working on the project
We couldn't get the audio signal from the cameras, and couldn't set work with video archives (these functions will be available in the next versions of iRidium).
Control panels:
iPad – 3 (one mounted in the wall)
iPhone – 2
More can be added if the customer wants it.
iPad in the wall is witched on and off by the movement sensor on the ceiling. It's done without programming or changing anything in iPad and without a lock screen

Equipment of the project:
KNX equipment
Mobotix IP cameras
Media players Evika
NAS
HTTP
iTach Global Caché
Photos and Screenshots