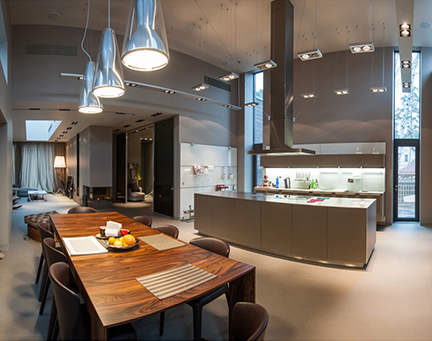 Type of project:
individual
Location: Sestroretsk (Russia)
Equipment: KNX
Modern residence (Elspace)
Tasks set by the client in the project
The customer wanted to have a fully-automated control system of engineer and low current systems and of the house.
The project features:
coordinate control and work of heating, ventilation, conditioning and warm floors;
control of inner and landscape lighting, blinds, shutters and sunshades;
weather monitoring system;
system of background music (AirPlay standard) controlled from inside the automation system;
system of broadcast and satellite television;
video-surveillance system of the house and the territory;
system notifying owners about the fire;
security system.
Difficulties you faced while working on the project
The main difficulty was that the customer corrected the technical specification on the stage of setting the installed equipment, and it led to installing more equipment. The suggested project solution allowed to realize all the tasks that were set by the client.
At the moment the project is still being modernized.
Control panels :
iPad
Equipment of the project:
ABB: lighting actuators, shutter activators, heating actuators, power units, dimmers, analogue actuators, IP-routers, security and commutation devices.
Busch-Jaeger – switches, Busch-prion series, ComfortTouch 9" panels, intercom.
Intesis – modules to control conditioners and KNX-ModBus gateway for ventilation.
Jung – weather station.
Arcus – temperature sensors of warm floors
Weinzierl – IP-interface
Evika – net players.
Basalte – ceiling motion sensors.
Bilton – dimmers for LED tapes.
The total number of devices is 120.
The local cable and Wi-Fi network in made with Cisco equipment. 7 access points are used to cover the whole house (seamless Wi-Fi)
Photos
Screenshots