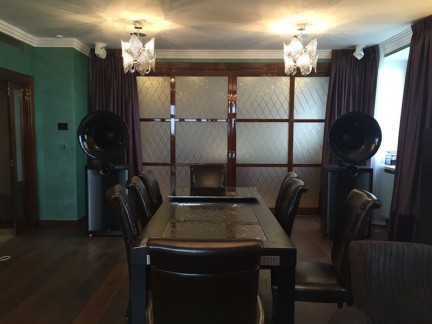 Type of project:
individual
Location: Russia, Moscow
Equipment: AMX, Beckhoff, BAOS, AV equipment
217-square-meter apartment (Bestron)
We were asked
to do everything for a perfectionist to have a perfect rest with secret rooms, automated fire-places, etc.
Wide variety of functions
: light control, full climate control, security and fire alarm, intercom controlled from iPad, Hi-Fi home cinema, HI-END stereo system.
Difficulties you faced while working on the project
Perfectionism is contagious. Our team got inspired by the customer's optimism to make the project more and more perfect. And it prolonged the term of work. But when all the customer's demands were satisfied, the customer was totally happy and decided to automate his country house with our company.
Control panels :
AMX NXD-435-GB panel – 5ps
AMX MXT-2000XL-PAN panel – 1
iPad – 1
iPhone -2 ps
Equipment of the project:
Controllers:

Beckhoff CX1010
AMX NI-4100
BAOS 772
Lutron homeworks

Multimedia

Integra
Apple tv
Electrocompaniet
Audio Analogue
Photo
Screenshots