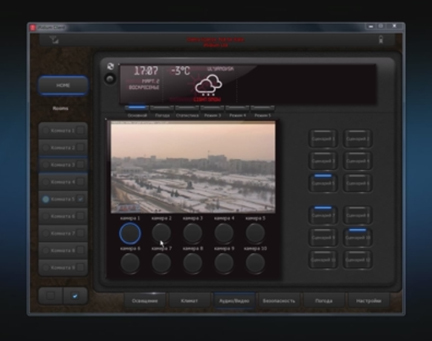 Type of project:
individual
Company: free-lance integrator
Location: Russia, Ulyanovsk
Equipment: Modbus, A/V equipment
Interface for Smart Home (free-lance integrator)
Tasks:
Autonomous work: to develop a laconic graphical interface for demonstration in a client's office.
Informative interface: each page of the interface must be as informative as possible: it must have a lot but enough information about the controlled object.
Convenient interface: the interface must be convenient to use with two hands, i.e. if a tablet is held in two hands, most elements must be within the reach of both thumbs.
Practical interface: the number of a user's actions must be reduced to a minimum.
Laconic interface: the interface must be aesthetically laconic. Bright elements of the interface are to help the user get necessary information.
Project description
It's a project or demonstration in a client's office. It can work autonomously, as well as control automation equipment.
Difficulties you faced while working on the project
There was nothing that could be called difficulties. There were just tasks and questions that were successfully solved during the work thanks to superb technical support of iRidium mobile team.
Control panels
iPad 4 Wi-Fi Cellular MD523RS/A - 1.
Equipment of the project
INSYTE Electronics automation system
HTPC - 1.
LED TV Samsung 40''- 1 .
Samsung music center- 1 .