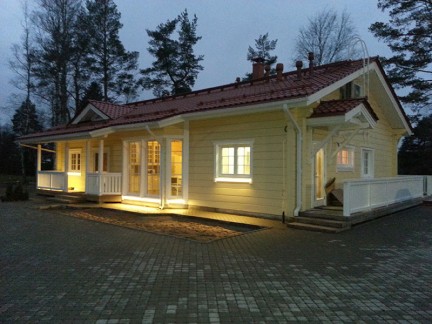 Type of project:
individual
Location: Saint Petersburg, Russia
Equipment: KNX, HDL, JUNG
Guest house near the lake (Intelliger Ltd.)
The main task was to use the KNX equipment left by the previous integrator and build the sutomation system with control of light (including the lighting of the house front), conditioners, rafiators and floor heating. It was also required to anticipate remote control of all house systems (for example, for increasing the temperature in the rooms before the arrival of the hosts). At the moment the client is fully satisfied with the work and wants to automate the other buildings on the estate.
Project description
Guest house on the territory of the country estate in Vyborgski area of the Leningrad region, 150 sq. m
Difficulties you faced while working on the project
The previous installer didn't create the project although all cabling was made, Also there were difficulties with remote control as the object has satellite Internet. At the moment all problems are solved.
Control panels
:
iPad 4 – 5 pcs.
iPhone 6 – 4 pcs.]
Equipment of the project
Automation on the basis of the KNX system.
Equipment:
JUNG switchers:

a set of 2-key switchers - 20 pcs.
a set of 4-key switchers - 10 pcs.
a set of thermostats - 5 pcs.

VALLOX Digit SE2 ilmava ventilation system
DAIKIN four channel conditioners with common outdoor unit
HDL switchboard elements
Photos
Screenshots