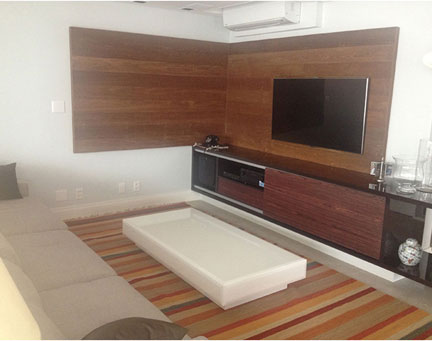 Type of project:
individual
Company: SBUS-Automa??o
Location: Brazil, S?o Paulo
Equipment: HDL-BUS Pro, A/V equipment
Date of project completion: 05/24/2013 22:00:00
Apartamento André Fernandes (SBUS-Automa??o)
Tasks set by the client in the project:
The customer wanted a ready-made Smart Home where he could control lighting, temperature, electrical devices and Audio & Video. The customer also wanted a security system to activate when they go in vacation.
Functions:
Security sensor and SMS.
Smart dimming.
Control of presence (motion sensors).
Mode «exiting».
Mode «coming».
Climate control.
Lighting control (different scenarios).
Multiroom system.
Audio & Video control for two Home Theaters.
Curtain control.
Difficulties you faced while working on the project:
The curtains are RF and don't have the controller for RS232, so we used a relay of Global Caché-100-12 to activate them with all the remote control wires connected to it.

Сontrol panels: 2 iPads and 4 iPhones
Photos
Screenshots