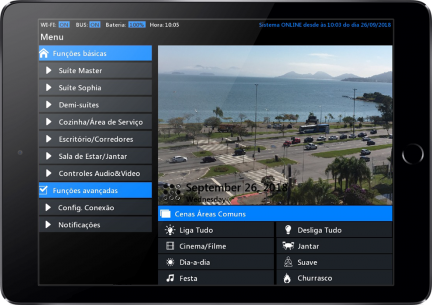 Type of project:
individual
Company: SMART HOMES
Location: Brazil, Florianópolis
Equipment: SBUS
Ale 503 (SMART HOMES)
Project description
Control of lighting, air conditioning, curtains (with stop and turn) and A/V equipment.
Difficulties
The most difficult part was to set this little timeout to make the curtain turn over a little. The Somfy motor driver expected 1.4 seconds to make it work as the techniсal spec. says.
Control panels
:
iPad mini— 1 pc.
iPhone Х— 2 pcs.
Equipment of the project:
Sbus mix 48 — 4 pcs.
curtain controller — 1 pc.
keypads — 5 pcs.
DLP — 1 pcs.
Yamaha Receiver — 1 pc.
Springer Air conditioner — 7 pcs.
Samsung TV — 2 pcs.
LG TV — pcs.
Photos