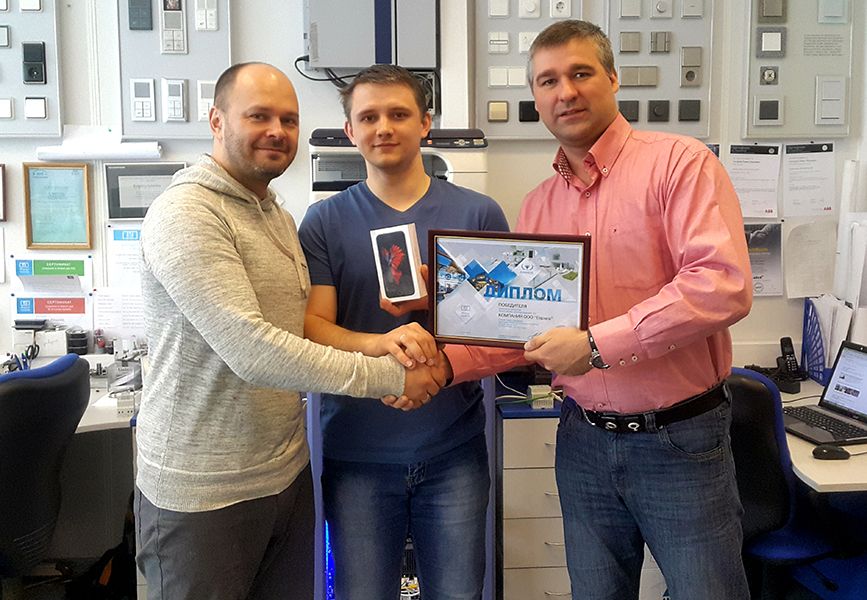 iRidium Awards project competition took place a third time this year. As expected participants from different countries of the world showed their talent at making automation projects in general and at using iRidium in particular.

The second year in a row the Grand-prix of iRidium Awards project competition was awarded to Elspace company, Saint Petersburg, with a project based on KNX equipment. That's why we decided to make an interview with Evgeniy Leshkiv, technical director of Elspace, to discover the company's success secret.



Evgeniy, your company has won the Grand-Prix in iRidium Awards project competition a second time. A question rises immediately, «How did you do it? Do you have a success recipe?»

Our success recipe is not to stop in achievements. Having designed a good interface for one project, we do not use it as a template in all other projects. We always look for new interesting solutions. improve the graphics of an interface, its working quality and usability. Our work is directed by our customers, who set us new tasks that require unusual solutions. The most successful and interesting solutions find themselves in the final version of an interface. This is the way we constantly improve our product.

How long did it take you to create "Vaskelovo" project? What was it like to work at this project?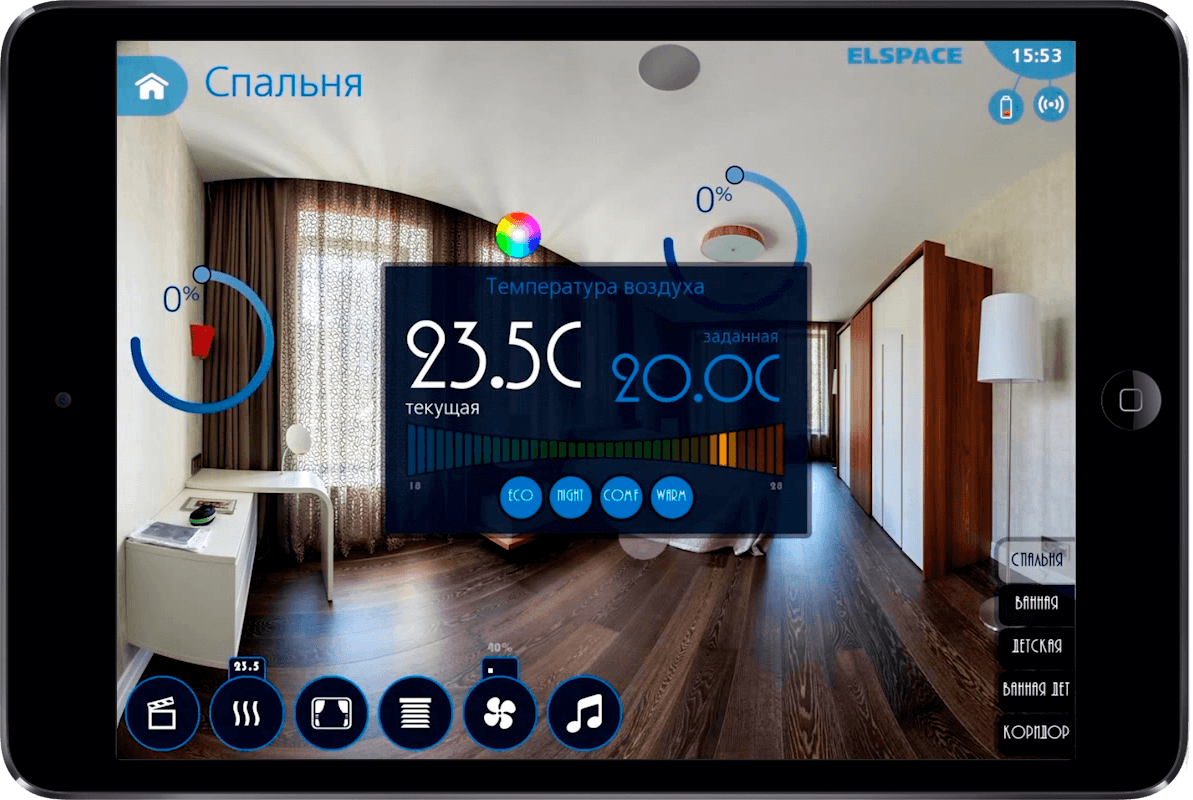 As Vaskelovo is one of the most difficult large-scale projects, it took us quite a long time, but the work was very intensive and interesting. It took us a year and a half to create the interfaces. We made 3 types of visualization (interactive, dispatcher, technical), each of which was successfully implemented in this object.

The interface of this project amazes with graphics. Tell us some more about the design process. What guidelines did you use? What were the main requirements to the interface?

As I said earlier, when we design an interface we always go by a customer's wishes and requirements. Customers usually want a good interface to be simple and easy to understand but to keep multi-functionality. We managed to solve this task by using interactive items, that allow to make control of all systems of Smart home as evident as possible.

How did you come up with an idea to make a technical interface?

It was one of our customer's requirements. He wanted not only to set the temperature, but to control the work of all systems and choose the optimal working modes for equipment from the point of view of comfort and energy-efficiency.

What was the most difficult in creating the interface for this project?

The most difficult was to process a lot of data of different types, each of which is used differently in each of the 3 interfaces.

Do you plan to improve this interface or will you start working at a new visualization project?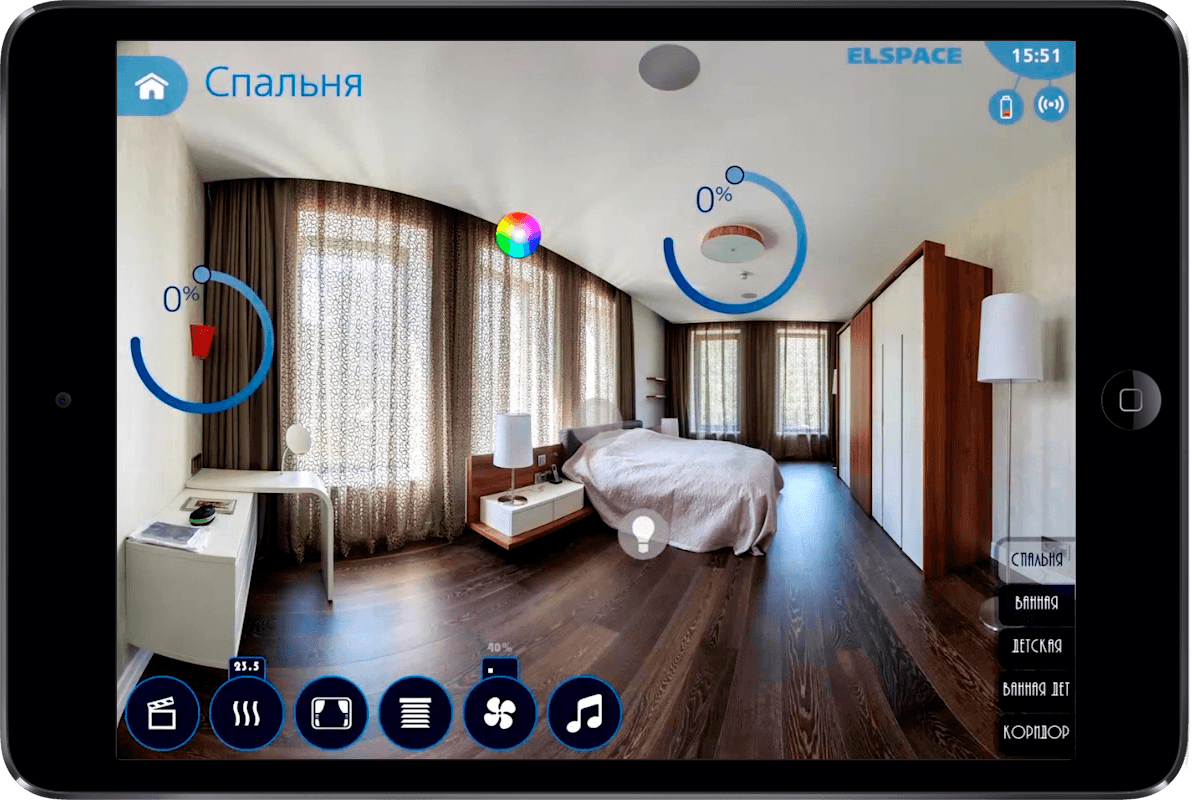 We'll definitely improve this interface, though we believe that it is extremely close to ideal. On the one hand, it is beautiful and informative, on the other hand, it is simple and easy to understand by any user.

Judging by your installation experience, what control panels are usually chosen by customers, smart phones or tablets? What operation system is preferable?

Tablets by Apple are used most often, but there are project on Windows and Android, as well. In my opinion, a tablet is the optimal solution from the point of view of mobility and graphical capabilities. It has hardware that works fast and a high resolution display.


Your projects, including the winner of iRidium Awards, are made on the basis of KNX equipment. What did you go by in your choice? Was it certain features of KNX system or your personal preferences?

KNX gives us wide capabilities to integrate different engineer systems of smart homes with a high level of flexibility of created systems. An excellent example of it is our project «Vaskelovo», where all equipment from a light bulb to the swimming-pool is controlled with the help of KNX equipment.


Very often you integrate KNX and A/V equipment by different manufactures in your projects? What is the reason for it? What integration difficulties do you have to solve?

The reason for integration of KNX and A/V equipment in our projects is the need to control a home cinema from the same interface that controls smart home. But very often we come across the necessity not only to display information from different sources on one tablet, but also to exchange data between systems (for example, from IP to KNX and back). We are hopeful that iRidium Server will help us to solve this task. We have already successfully tested its demo-versio.


What achievement of your company (besides two Grand-Prix in iRidium Awards) do you consider the most important? What are your plans for the future?

ВThis year is marked by a milestone event for our company. We were nominated for KNX Awards 2016 in в категории the «Best foreign project: Europe» category. Our work was recognized on an international level. It is major achievement for us and we are proud of it. It's a pity we did not win, but we hope to do it in the future. We are an ambitious company. We expect new victories and achievements, new interesting projects and ideas. And the most important we want many customers who are happy with our work.
You can see Projects made by Elspace company on the company's web-site, on Elspace Youtube channel and oniRidium mobile web-site.

Results of iRidium Awards 2016 project competition and all project-participants are here.

iRidium mobile team